So I posted an entry about how I like to wear casual clothing in the summertime, but what about when the occation calls for something a bit more dressy? Well, if you are afraid of color, then your options are substantially limited. Wool isn't the best choice (unless its a very fine weave) for the warmer months, so cotton is king. Khakis and a light shirt are the easy go to option during these summer swelts, but if you need to dress often, you may look like your wardrobe has the handicap of being very constricted.
If you want to stay in the cotton range, and mix it up, I suggest going to colorful options which aren't generally a feature of American clothing. Just because these items are imported from Europe, doesn't mean they have to be expensive. I have NEVER paid anywhere near full price on any of my trousers, and can find especially good deals on summer trousers in places like Daffy's, Century 21, and the B&S Forum over at styleforum.net. All of the pants you will see below have been obtained from one of those three fora. I didn't pay more than $50 for any one pair, and most were bought closer to $20 each. Many of these pants retail for well over $200, so I'm living proof that buying luxury doesn't always have to be cost prohibitive.
Here is a pair of very light wool Incotex pants with a yellow gingham shirt. After work the BrooksBrothers blazer and BB Pink tie was removed.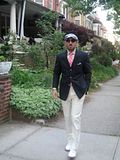 This look shows a light navy cotton pant (Adam and Eve) with a madras long sleeve shirt and seersucker vest. To me, seersucker is the ideal summer fabric, refined enough to be considered dressy, cool enough for hot days, and textured enough to give your look a little "edge".
Below are some red chino-lino pants, a colorful tie and belt with a subdued pink stripe dress shirt.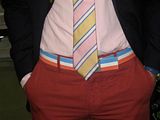 Perhaps the belt was an unneccesary addition, but you live and learn.
Here is a look I wasn't terrifically pleased with, but felt is was just "alright". A seersucker jacket (part of a three piece suit) and navy cotton trousers and a light blue shirt witha navy striped tie. Did like the shoes and trousers together though...shoes are Alden for JCrew longwings. Love the look, but for the price would have rather just purchased a pair of shell cordovan longwings direct from the Alden store. they now sell them in whiskey shell.
We here have lighter blue trousers with whiskey cap toes and a fitted navy blazer. To compliment the trousers (Incotex) I went with a sky blue tie.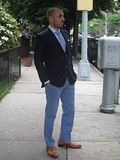 This look probably elicited the most comments (good and bad) from the fora where I post. The pants are Tangerine Mabitex and the jacket is a bold blue 3 roll 2 to which I had white MOP buttons added. A Paul Smith Tie and Square were added but the most "controversy" came through my choice of shoes and head gear. In retrospect, I probably would have gone with one of my summer driving caps and the JCrew Longwings instead. But with color, you have to try different things...
Regular khakis feature here, with the color coming from the salmon tie. Remember how nice June was in NY this year?
Green Incotex and a Navy hopsack blazer. For a more subdued look, lose the white shoes, and go with a darker brown.
Almost as summer as seersucker, the linen suit. It doesn't have the greatest fit, and the pants have been altered as they are entirely too long here. But, for the price (well under $100 on sale) it suited me just fine. The madras tie, light blue gingham shirt, and blue faced and banded watch provide just enough color where the suit lacks it.
The green pants and blue sportcoat for a July engagement party. This time with white bucks and my yellow gingham shirt with a skinny Theory light blue cotton tie.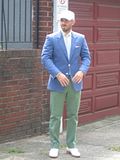 Here's a really ambitious get up of seersucker (jacket), gingham (square), plaid (shirt) and stripe (tie) with denim.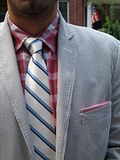 For more casual wear, a bit of an inverted dress down colorway. The first look, Cobalt Blue Incotex chino-linos (cotton/linen blend) with a light yellow gingham shirt. The second is a light yellow Incotex chino-lino with a blue gingham shirt. These are two ways color can be incorporated into a more casual look.
I'll leave you with a project for next summer. I picked up this great seersucker plaid jacket at a thrift store on my travels in Richmond, Va this July. I'd like to have the pocket flaps and lapels slimmed down a bit as well as having the waist nipped for wear the first 80 plus day of 2010.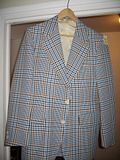 Stay tuned for the last summer installment...bathing suits.