Do you hear that sound? That tapping on your window? There it is again,
tap, tap, tap
. Ah yes, now you remember it. Its Fall, gently rapping at your door. Today, for the first time this year, Fall's cool chill has graced the air of Brooklyn with her presence. As I sit here by my keyboard, I eagerly anticipate the first sip of coffee that I hear dripping in the kitchen.
Drip, drip, drip
. But don't let these thoughts occupy too much space in your mind, as we both know, that not only will Summer come back for a visit one last time before the Autumn gets here for good, but that it may come back with avengence and provide us with the motivation for one last dip in the pool or the ocean. As we
Splash, splash, splash
in the water that last time before next year, lets think about what we'll be splashing around in. Swim trunks, the bathing suit, those special shorts used for more leisurely activities, and general lounging at the beach, pool, lake, or river. So what should we wear while lounging our lasts?
Its far too easy today to take a trip to the mall, or the outlets, and for $20 buy a bathing suit that fits more like a tent. This is the mistake that most American men make. Similarly to those baggy cargo shorts, men tend to wear their bathing suits far too long, and far too baggy. There's no need to wear, what one of my buddies calls them, "manpris" when sitting in the sun at the beach. Swim trunks should NOT, EVER, venture below the knee of the wearer. But what about for guys who are not skinny freaks that make Thom Browne models look overweight? Well, we'll start here: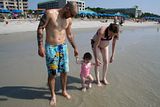 Taken on Hilton Head Island, SC, here I'm wearing an Etro suit and my daughter is wearing a "What the hell is this?" face.(It was her first dip into the Atlantic, or any ocean for that matter) The suit is very light and 100% cotton, and it dries suprisingly fast for the material. It has two side seam pockets and a rear patch pocket, but I strongly suggest keeping your valuables out of them when anywhere near the wet stuff. The suit is lined to keep everything where it should be, and really is my most comfortable pair of trunks. These stop right at my knees and are my longest pair also. Etro, a Milan based fashion house, sells these upwards of $150 retail, but who pays full retail for anything? They were at the Etro Outlet store in Woodbury Commons for $80, and at the time of my visit two years ago, were having their Labor Day Sale. The 50% off all summer goods there brought the price down to $40, a great bargain. For around that price you can get your typical "manpri" suit at Nautica or Tommy Hilfiger, right?
A man should never own only one bathing suit, especially one who usually hits the beaches religiously each summer. So below we'll look at a few other pair, of the shorter variety. First, a pair of "board short" type trunks that I picked up at a shop on King Street in Charleston this summer. The brand,
Nantucket Brand
, I have never come across before. When reading up on the company, I realized why. The brand is sold only in their two company shops, one in Charleston the other in Nantucket. There they sell mostly preppy wear for the Nantucket set. As I meandered my way through the shop, checking out OCBDs, khakis, and ribbon belts I found my way to a back alcove. (Thats the word right? Alcove?) In this little nook of the store were all of their sale items. Polo shirts, shorts, belts, and swim trunks. All summer items that needed to be cleared out and all were $20 each. So for that price I couldn't pass up this navy and red pair of board shorts (an unlined bathing suit):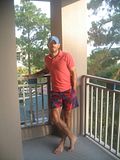 Pictured here with a JCrew tailored fit polo and my Ben Silver Ball Cap, these come about half way down my thigh. They are 100% polyester and have two side seam pockets and two back flap/velcro pockets. When examining the suit further, the "Made in China" tag becomes apparent as the fairly shoddy interior stitching. There are quite a few loose threads inside the suit, and I've had to take my shears to them on a few occations after some washes, but for the $20 I paid for them, I'm satisfied. Had they been full price, they most certainly would have gone back; but they were just right for lounging on a SC beach waiting for the sun to set...always with the upcoming hockey season on my mind!
The last suit I'll be showing you is by far the shortest, but also a favorite of mine. While out of our apartment last summer due to a fire in our building, a dry cleaning company took all of our clothing to clear all the smoke from them, leaving us with literally just the shirts on our backs. So, we headed out to Paramus, NJ, and to the massive Century 21 department store there, to pick up a few things to get us through. These trunks, and a similar pair in white and orange, were two of them. The brand is Acquarossa, another Italian outfit, and they were $19.99 each. Normally these suits would retail around $80. These are 100% polyester, which helps them dry miraculously fast, with a 100% cotton lining. Only coming down about 1/3 of the way on my thigh, I needed to be careful with the sun, and made sure I sprayed my thighs with SPF30 each time they were worn. Here you can see why: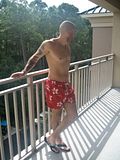 Now I'm sure a lot of guys wouldn't feel comfortable in a suit this short, and they probably would look so good if I had even a little more of a belly, but if your decently fit, and not shy about showing some leg, these come highly recommended. These provide a shorter alternative without being the "full monty". As for that, unless you are an Olympic swimmer, competing in an Olympic event, please don't wear a speedo.
Now we'll turn our attention to shirts. A disturbing trend caught my eye as I spent two glorious weeks at two of America's finest East Coast beaches this year. Grown men wearing "surfer style" shirts while on the beach or at the pool. Big men, small men, skinny men, and fat men. Listen, if your 12 years old, and have one of these, its ok. In fact, then, its quite appropriate. Little kids forget to come back to mommy and daddy for the reapplication of vital sun screen and wind up getting burned. That sucks. But for those of you old enough to know better, c'mon now. No man should be caught dead wearing these things unless he's a professional surfer, competing in an event. The same as the speedo rule. "But Rob, what if you just get burned too easily?" Then wear a tee shirt, a sweat shirt, or anything else BUT the surf shirt. Even if your modest about exposing yourself to the ladies on the beach, just throw a tee shirt on and you'll will be fine. Leave the Underarmor shirts in your gym locker and your surfer shirts on your kids. Its just not acceptable.
One of these three styles of swim trunks should suit just about every man who ventures their way into the water this last weekend of summer or next year. But before the last sun of Summer sets beneath the waves of Fall, try and get out one more time to enjoy it. Enjoy the warmth of the sun. Enjoy the refreshment of a cool ocean breeze on a hot and humid day, but please, do it without your surfer shirt and "manpris".