Most people who know, know that seersucker is a classic staple of a gentleman's summer wardrobe. We've all seen the image...southern men, meandering around their plantation grounds carrying a mint julep, wearing their seersucker suits, but for the city seersucker can look, well, just plain affected. I thought about this when comissioning my last bespoke piece at Ercole's this June. I wanted something for summer, and the warmer weather that pre and procedes it and love the seersucker fabric, but didn't want a "typical" seersucker jacket. Well, I found a terrific fabric, a navy on navy medium wale seersucker that Frank and I had pieced together in a two button jacket.
As with all of my coats, I like them to be a touch on the shorter side and double vented (to accomodate my hockey player posterior), and Frank knows this. I decided that eventhough this would be a summer jacket, it should be lined fully, as I didn't want patch pockets on her. Frank found a great cotton shirting fabric in stock with the colors of the NY Mets (blue, orange, and white...the whole new black thing in their colors still irks me) and we decided that it would be perfect. I also had him make me a square in the same cotton fabric. We went with two standard flap pockets, a breast pocket, and three and a quarter inch lapels that had somewhat of a higher than normal gorge. We also took all padding out of the shoulders and kept his house Neapolitan or "waterfall" shoulder-arm seem connection. For finishing touches we went with white MOP buttons (4 on the sleeve) and at Frank's suggestion we sewed a white edge to the lapel buttonhole which really helps the jacket "pop".
Some pictures of the first fitting: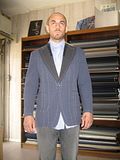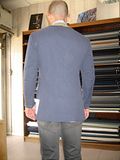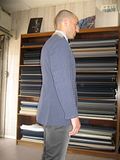 I want this jacket to be my go-to summer jacket. A blazer, but not. I will wear this in the warmer months with attire that I would normally wear my navy blazer with when the mercury drops a few inches on my thermometer. Jeans (white or lighter washed), khakis, seersucker pants will all compliment the navy coloring of this jacket well. I think I've succeeded in creating (well, Frank has succeeded in creating) a summer jacket that will give me plenty of years of wear with the versatility of the ubiquitous navy blazer, even with the ability to turn it out with some Breuckelen edge to it.
And some photos of the jacket in action. First paired with a pair of fine waled khaki seersucker pants (by Ercole) with two inch cuffs, white suede Peale wingtip bucks, a small blue gingham shirt (Ercole again) and a Ben Silver tie (that my wife got me for my birthday!). You can see the square Frank made eeking out of the breast pocket as well. Covering my head is a linen cap from City Hats in London.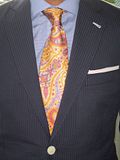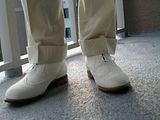 A second look, for a more casual wearing:
Jeans are Citizens for Humanity in a light wash, Jack Purcells by Converse for John Varvatos, ribbon belt is by Atelier F&B Geneve, red micro-gingham shirt by JCrew, and the square is by Brooks Brothers.
NYR.