Enjoy this fabulous time of the year for what in my opinion is the best fabric ever made. Some may love the soft touch of cashmere, or the weightlessness of a finely spun wool, but to me, no fabric represents the luxury and hard working personality of Brooklyn, better than Harries Tweed.
Its history dates back to the mid-1800's when a local islander from the remote outpost of Harris, Scotland was commissioned to make cloth for a Scottish noble. Ever since that wool was taken off the loom, it took off and was seen worn by people in all walks of life, from royalty and movie stars, to truck drivers and dockworkers.
What makes Harris Tweed unique is that it is made only on the island of Harris, and only through man powered looms. Its character as a cloth is evident as there's a real texture to it. Its rough, and hard working, like the islanders off the Scottish coast. It also can contain beautiful colors that a finely worsted wool simply does not. Its plaids and checks and herringbones turn the garment into a piece of geometric art, that can be enjoyed by one and all, but when combined with its character, and its hand, take it even a step further.
You can wear Harris Tweed with just about ANYTHING. In my mind, selvedge denim is Harris Tweeds' cotton counterpart. Raw indigo jeans help bring out the colors that the tweed produces and purveys a hard working, long wearing combination thats good enough for the trendy Williamsburg streets, the docks in Red Hook, or the offices of Metro Center in Downtown Brooklyn. Those skinny jean wearing hipsters will look just as good as their fuller cut denim wearing longshoremen when throwing on a nice herringbone tweed, although only one will know the feeling of kicking back in it after a long hard days work. The shrewd, luxuriously minded businessman with his grey flannels could also look the part with the very same jacket.
Aside from being one of the most colorful fabrics, tweed is also one of the more functional ones. It keeps you incredibly warm when its incredibly cold. Its weave and thickness allows it to keep you dry on the inside when its ever so wet outside. There are even lighter weight tweeds that you can wear inside in the warmest of heated rooms without feeling overly hot. This miraculous fabric is very much like the Underarmour cold gear which was created with the help of modern technology and science, except this dates back to 1846, before the American Civil War, the first year of the Mexican-American War, and the year that California, for a brief time, was an independent Republic, not a US state.
From October through the end of April, at least three days of my work week, you'll see me wearing one of my tweed jackets made for me at Ercole's on 13th Avenue and for the rest of the year, you'll find me dreaming about them, ordering more fabric, and pondering what my next commission will be. In my mind, no fabric represents my beloved borough more than Scotland's own Harris Tweed.
Here are some of those days from last season: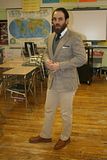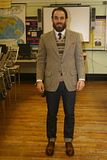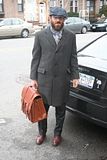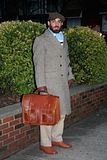 I'd love to hear your comments!