So I've been on a James Taylor kick lately. Man this guy can sing. What I enjoy the most is how easy James makes it sound. He doesn't need a synthesizer, doesn't need a master technician, doesn't need 5 takes to get it right. His conversational voice, and real life singing just strikes me. Music can be amazingly emotional, and his is no different. First, it was Carolina in my mind, for about a week, as my beloved Blueshirts were battling for the final Eastern Conference NHL playoff spot. The Rangers, my Rangers, were duking it out with the Caroilina Hurricanes, and lo and behold, we edged them out on the final day of the season with a huge win over our bitter rivals, the NJ Devils, and the Canes lost later that night to Tampa Bay to assure us of our immediate future: a playoff bound squad. For how long has yet to be determined.
But it wasn't only hockey that made Carolina prominent in my head. Some of my adult life's sweetest memories are held within the boundaries of the Carolinas. My honeymoon and my daughter's first steps were taken on the soil of the South, in South Carolina. My wife and I both fell in love with the low country, with the warm sandy beaches, and not so cool ocean water of the Middle Atlantic. Of of my favorite family pictures (with all four of us) was taken on the beach in Hilton Head Island, walking our daughter and carrying our son to the water.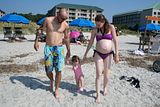 Needless to say, its been to long, and we'll be back sooner rather than later. There ain't no doubt in no one's mind that loves the finest thing around, and God do I love it in Carolina seeing the sunshine and feeling the moonshine.
After speaking with one of my esteemed colleagues in my school, who is a musical connoisseur, and huge Taylor fan, I was introduced to Copperline. Copperline is a song about where James "grew up" in Chapel Hill, North Carolina. It got me thinking about how I grew up, in a working class family on Staten Island. As a youngster, my grandfather would pick me up from my half day nursery school, take me to McDonald's and split a Quarter Pounder with me, then we'd play the horses at OTB. Wel, he'd play them, and I'd play with the racing sheets, making paper airplanes out of them. I still remember how he taught me to tear a small square in the body of the sheet, to keep the folds from separating, and keep the plane aerodynamically sound.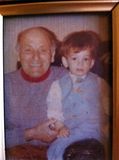 I've been thinking a lot about my grandfather lately, and what he'd think of me as a man, who knows nothing of the horses. His younger brother Sally, is not doing so well down in Florida. He and his wife relocated to the Sunshine State to stay with his daughter Josephine in their Golden Years. I see my life's first best friend when I see pictures of my Uncle Sal. He is a spitting image of my grandfather, and it makes me happy and sad at the same time.
My grandfather passed away when I was only eight years old, yet for those eight years he left an indelible mark on my life. I think then of my own children, and we come full circle. One day they will see my father as I saw my mother's. My children share that special bond with my dad, one that fills me with immense joy. My dad is their first "best friend". The only first best friend they'll ever have, and one day they'll look back on these days, and remember fondly how they're "n-n-n-n-nuts" and the "punch in the nose" and giving "my regards", some things they share with my dad, as I shared Quarter Pounders and OTB with my grandfather. I'm glad my dad and I have one more thing to bond over. I know these days won't last forever, so I'm going to enjoy them, because
"Day breaks and the boys wakes up
And the dog barks and the birds sings
And the sap rises and the angels sigh, yeah
I tried to go back, as if I could
All spec house and plywood
Tore up and tore up good
Down on copperline
It doesn't come as a surprise to me
It doesn't touch my memory
Man I'm lifting up and rising free "
And one day I hope to remind my children of these forgotten memories and spark the love within them that burns brightly in my heart thanks to two men whose love for me could never be extinguished.