So, the cat's out of the bag. The esteemed editors at Esquire magazine have selected me to be among the 5 finalists in their Best Dressed Real Man competition for 2010. I'm really honored to be thought of in the same light as the other four finalists who each out their own unique spin on how to do things sartorially. But for those of you who know me well, keeping it real is always something I set out to do, with whatever it is in my life, be it food, drink, clothing, or anything else.
Today, I'd like to talk about keeping it real, casual. Many men in the know have lost touch with reality. No, I'm not talking about Thom Browne and his skirt suits for men, and I'm not talking about any other modern designer either. I'm talking about many of the "old school" philosophers on men's dress, and how it should be done. These are the guys who abide by the "rules" to the point where they become someone else entirely. While I feel its important to know the rules, I also feel that rules were made to be bent, if not broken entirely. And what's a more perfect time to bend or break rules, than the summer time.
Some of these stuffy folk will tell you that a gentleman NEVER shows his legs in public, and therefore should never wear shorts unless at the gym, or while participating in some other form of physical activity. Well, to hell with them. A real man doesn't live by some Victorian dress standard, and nor should he dress according to one. When its hot outside, and the situation calls for it, wear shorts damn it. But how do you wear shorts?
2009 Esquire BDRM Dan Trepanier has got it right with his assertion that the baggy cargo shorts should be kept in the halls of your local high school and suburban college campus. (http://www.thestyleblogger.com/www._TheStyleBlogger._com/Blog/Entries/2010/8/5_Keeping_Cool__Tailored_Shorts.html)
In my mind, though, he missed the mark with how an urban young man, in fairly decent shape, should wear them. To me, the perfect way to say your relaxed with your clothing, is with a cut off pair of shorts. Those simple frayed edges make a bold statement, and let people know that you'd sooner knock back a couple of beers at the bocce court, than knock off anything on your home office to do list.
I am a runner, and I hit the gym at least four times a week. I am an athlete and have been all my life and I've been blessed with a pair of decent looking, and performing, legs. I'm also a teacher, which gives me the opportunity to relax with my beautiful family during the scorching months of July and August. So damn you Dan, if you tell me to leave my short shorts at the beach. And damn you fogeys who say to leave the shorts on the shelf in the shop altogether. I work damn hard, and because of that, earned the right to wear my shorts a little shorter than Dan would want me to. As an athlete, Dan should know this, and take advantage of the walking sticks God gave him. Now, it takes a certain air of confidence to pull off shorter shorts as well as some decent looking legs. Its no wonder Johnny Drama focused so much on his calves in Season 4 of Entourage. Here's a look from a recent block party in Bay Ridge, where the people were as plentiful as the Peronis, and no one batted an eye at my short, salmon colored cut offs.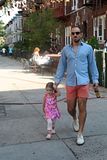 My work wardrobe takes up a considerably high percentage of my discretionary funds (which as a civil servant, aren't that much to begin with), so buying new shorts for the summer is not a priority. This doesn't mean that I can't obtain another few pair each l'ete, and another reason why cut-offs are cool AND practical. I found a few pair of regular trousers I already owned that didn't quite make the cut when I was setting up my spring/summer closet and I put them aside until I was ready to make my move. I tried the pants on, took a pair of scissors and cut a small hole a few inches above my knee on both sides. I then removed the pants, and cut straight across the front until I was open to both side seams. Then, at the back, I cut at a slightly downward trajectory until I reached the mid point between the seams, and then cut back up until the pant leg was completely removed. I repeated the process on three other pair of pants that I was not using any longer, two of which were almost 10 years old from a shopping spree at H&M when I first started teaching (Yet another good reason why you should never throw things away). The two pair from H&M were a nice lightweight blended material (wool and poly) and had pinstripes. The "dressed up" look of the pinstripes combined with the frayed edges of the cut-offs makes for a perfect combination. To me it says, "Eff this, I'm not working! I'm playing!"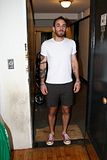 Here are a simple pair of khaki cut offs that were once capri shorts (Banana Republic circa 2001) from my GTLing "Jersey Shore" days (yes folks, I've grown up quite a bit in 10 years, but moving off of Staten Island can do that to you). Paired with a madras plaid JCrew shirt with the sleeves rolled up, this kept me fashionable and cool on my trip to the Prospect Park Zoo with the kids in tow.
The key with this look ironically, is to know the rules. Yes, I just spent the first portion of this post criticizing "those guys" for always sticking to the rules, but sticking to them and knowing them are two different things. To know that shorts are a casual is important, because it should ease the fears about wearing a pair with such an extreme casual element, the cut-off fray.
Now, not everyone has the legs of a runner. Some have chicken legs and some have plumper legs. That doesn't mean you can't rock this uber casual style of short. I suggest taking the cutting point and dropping it closer to the knee, as Dan suggested in his blog. Here are a few examples of longer cut-offs I wore this summer, but by no means are long shorts. The first are cut slightly longer than the salmon shorts and paired with a cutoff-sleeve madras shirt. Perfect for the Bronx Zoo (my daughter likes animals, what can I say?)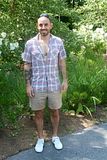 Here we see a similar pair with the same shirt, pre-sleeve surgery:
And the same pair with two other shirts, a luxurious Roberto Collina pima polo, and an Old Crow Medicine Show concert tee (Roll Tide):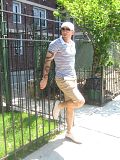 I hope today's post has helped convince some of you two things: 1) If you've got the shape, don't be afraid to show it off and 2) A simple pair of scissors can turn a pair of pants (because I may be the only one to ADMIT to owning capris), into a great casual staple for your summer wardrobe. And if the cut-off long just isn't for you, any decent dry cleaner can chop your old pants into shorts and finish the bottom for you to keep a cleaner look for about $10-$20.
Unless of course you're too busy covering the legs on all of your furniture. If thats the case, you'll need more than my blog to help you.