Last night was a huge step forward for American hockey. Our boys out worked, out gritted, and eventually out scored the world's "best" in their own barn for a mesmarizing 5-3 Olympic Hockey victory earning them the number one seed in the elimination round to start on Tuesday. It also earned the boys a well deserved day off before they face either a gritty Swiss team, or an overmatched Norway in the quarters. But thats the bigger picture. I want to look at three smaller pictures over the next few hours that I said were true before these games began.
Team USA was a better "team" than Team Canada. Sure, thats a point easily proven by the scoreboard at Canada Hockey Place at just before 7PM local time in Vancouver last night, but even without the help of an electronic time counter and tally keeper it was clear all over the ice for most of the 60 minutes yesterday. Americans were more than willing to sacrifice themselves for their teammates. Specifically, our boys, Ryan Callahan and Chris Drury were pivotal in their roles as penalty killers, specifically late on, and were ready at the drop of a hat to throw their bodies in front of the hundred mile-an-hour vulcanized rubber hurled at their teammate Ryan Miller (who I'll get to later). One block in particular by Callahan, after he failed in a clearing attempt in teh final minute, stood out. While going down feet first at the Canadian point man, Callahan raised his right arm and took a blistering shot off of the inside of his gloved hand. I've done this to catch flip clearances out of the zone, and for those who don't know, it doesn't always end well. The inside of a glove offers very little protection, if any, and frozen pucks traveling slowly can break bones. To Callahan though, team was more important.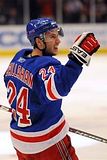 It also didn't hurt us the Capt Clutch was on the scene to score America's third goal, breaking a streak of Canadian momentum that started when Dany Heatley slammed home the red shirted team's second of the game, and sending the barn into temporary delirium. Drury's goal came by rushing the net after a goalmouth scramble and comedy of errors by the Canadian backline and goaltender, and his linemates , St Louis Blue David Backes, and Callahan, incessant pressure. Drury, the man on the spot, picked up the loose puck in the slot, and fired home a wrister into a vacated goal as three Canadians didn't know who to turn and where to look until it was too late.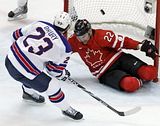 Another example of better team play by the Yanks was the D to D passing in the offensive zone, and in particular on the power play. This tape to tape passing between the backliners in the white jerseys was key, as the US scored 3 of its 5 goals, including the game winner, as a direct result of point play. The Canadians, although breaking out with a Sidney Crosby power play tally late, simply did not have the puck movement on the back line that the Americans did, and it led to their downfall. Countless blocked Canadian shots, errant passes down low, and shots wide were a result of the Canadians not moving the puck, and not getting themselves into better positions as the Americans did when the time came.
Lastly, I want to talk about American tenacity in this game. Hard work has always been the key ingredient to the American dream, and last night was no different. On paper, our boys were outmatched, but on the ice, it was the Canucks who were outworked. A bigger and arguably more skilled Canadian team came in with the support of 3o million people, 15,000 of whom were at Canada Hockey Place to do it vocally, but it wasn't enough to push them past this youthful, hard working American team. All over the ice, the Americans were hitting, and taking hits to make plays, while the Canadians were falling all themselves and running into each other. On very few occasions were the Red White and Blue caught out of position on a forecheck, and when they were they were not called to task on it. Why? Because they were playing for each other, and working for each other. They looked like, and were selected based on this. Guys like Dustin Brown, who are offensive sparks on their club teams, were willing to play the role of grinders, to make things work for the USA. And work they did. No time in the game was this more evident than a stunning empty net goal as the clock winded down to under a minute last night. Relentlessly pursuing his Western Conference rival Corey Perry on familiar ice, Ryan Kesler, of the Vancouver Canucks iced the game for the Americans by simply wanting it more, and working for it. Perry certainly wasn't lollygagging it with the puck, the Canadians were desperate, and they needed to get the puck down the ice for a final push. But Keslers skating and then perfectly timed dive knocked the puck off of Perry's stick in his own defensive zone circle, and sent the puck right into the lower right hand corner of an empty net, sealing the W for our proud ice warriors.
It may not be a Golden Victory yet, but it was a big step toward that goal, and it was because we played a better team game than did the NHL All Star-Studded lineup of our northern neighbors.